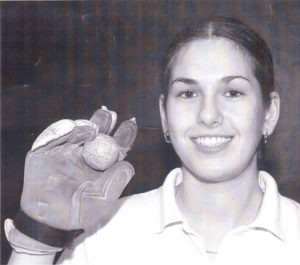 Claire Knowles first started playing Rugby Fives in 1999 after being introduced to the sport by Bernard Del Soldato.
"He started me off playing in August and after beating all the ladies in a small tournament at the Y Club, he encouraged me to enter the Ladies British Open Competition in December. I remember being very nervous because everyone was telling me that it would be difficult because of my inexperience and that I was not expected to get past the first round. I got through to the final and won beating the lady that had dominated the fives world since 1985.
Apart from 2001 and 2006 when there was no competition due to insufficient entries, I have won this competition every year since 1999. I have also held the Doubles title for the same amount of time. In 2010 I entered the Winchester Fives Mixed doubles competition and won that too.
As there are only a few ladies that play in Manchester, I have had to practise with the men at the Y Club. Looking back this made me a stronger and more determined player. This determination has never left me and I now beat most of the men at the Y Club on a regular basis."