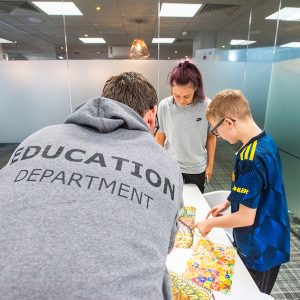 Helping young people gain the confidence to make decisions about their own lives is an important part of our work, as is providing an environment in which they can flourish.
Education is much more than formal schooling. YMCA Manchester offers a range of accredited education and skills-based training programmes such as employability, fitness and physical activity, sport and active leisure, personal development and functional skills.
We work with young people aged 13-24 that may be at risk of exclusion, struggling with a school setting academically, have learning needs, are a young carer or care leaver.  We currently work with four schools to deliver bespoke programmes based on the needs of the young people attending.
YMCA Manchester is a Pearson approved centre and we are proud to offer a number of BTEC qualifications in addition to Functional Skills in Maths and English.
Reviews of Service
As an education service, we have experience of working with different partners, stakeholders and young people. Click on the link and see what they say about our service.
Our Facilities
YMCA Manchester Education service, has the use of purpose built modern classrooms, a state of the art gym facility (including a swimming pool, 5's court) and a recently renovated sports hall and dance studio.