Fred Beswick – 1930 to 2012
Fred Beswick, a lifelong member of the Manchester YMCA was an incredible man who touched the lives of many members. Known as 'Mr YMCA' we have printed a here a moving tribute here to Fred, written by fellow club member Wayne Enstone.
Fred Beswick proudly became President of the Rugby Fives Association from 1987  to 1989, becoming the first Manchester YMCA club member to be awarded this position.
Fred Beswick was a member of Manchester YMCA for over 65 years, having joined as a junior member at the age of 14, playing many sports to a high level and a member of  many YMCA club teams; a very competent all round sportsperson. Fred fortunately lived in the Castlefield area of Manchester and worked in his early life less than a mile from the old YMCA site on Peter Street. He was on the Board at the Y in the 1980′s when the decision was made to move the Y to the new site in Castlefield, less then 150 meters from where he had lived – he had, to quote him, "come home". Fred in his youth had been a volunteer who had given many weeks and weekends to help build the National YMCA Lakeside facility on Lake Windermere. His contributions to both Manchester YMCA and the National YMCA movement were recognised recently with the highest honour being awarded, an Honorary Membership of Manchester YMCA and the National YMCA's  Order of the Red Triangle, one of only a few people to have gained this honour.
His interest in Rugby Fives began in his early thirties, in the 1960s, and as he admits he regretted not having taken up the game earlier. He became club champion not long after starting to play and reached the North of England singles semi-final in 1973. With his regular doubles partner, Danny McGregor, he won the Club Doubles championship five times. Fred gave a very good account of himself in many open championships, his drop shot and follow up volley were feared by the best players and his short serve, we all struggled to return, which prompted his leg pulling saying during doubles "and the next". One of his favourite titles was, Master Of  The White Ball (M.O.T.W.B). Bringing fun into the game was one of Fred's great assets and as a coach his ability to motivate all players to enjoy playing the game he loved. His positive energy infected all he coached. As everyone who came into contact with Fred soon found out there was a game called 'fives', that included conversations in pubs, cafes and shops covering the whole of the UK. His enthusiasm was infectious, as he would say, "no one is safe", gloves and a ball would be produced from somewhere and before the person knew it they were on court. One would always know which court Fred was on because of the laughter, and another favourite expression of his booming from the court, "great shot". Fred's wife Shirley recounts that in his later years on court, Fred was credited with inventing a variation on fives, witnessed by onlookers to his games of doubles known as 'yours!'.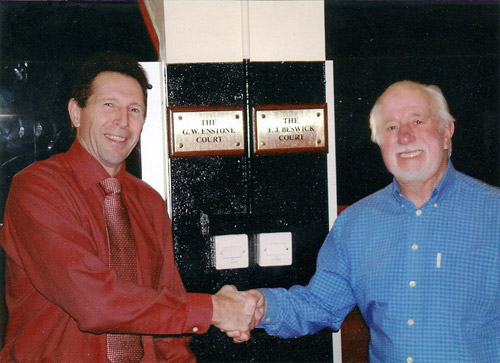 From a YMCA fives development point of view Fred, at the suggestion of David Gardner (St Dunstan's O.B.) helped to organise with Ernie Livesey (ex Club President) the first Lancashire Open Championship (now the North West)  in 1968, which really put the YMCA as a fives club on the map. In addition, and as an incentive to play in the tournament, competitors were treated to Shirley's 'girls' famous hotpots. Whilst the club had fixtures against other clubs this was the start of a new group of Fred's 'boys' going to tournaments around the country. This was also a new era from a family point of view as Shirley with daughter Jane, who also wore the gloves as a youngster and son John (5 times National Doubles Champion) found themselves either travelling the country or waving Fred off for another weekend match or tournament, or having strange men in the house for the home fixtures. A big thanks must go to Shirley for sharing Fred with us. Other family members who were also introduced to fives were brothers Frank, who in turn introduced his work colleagues and  brother Bill, who played in several open tournaments and instigated the coaching of students by Fred at Manchester University. Tony Wynn, (4 times British Universities Singles Champion) being one of the many students that benefited. Shirley's nephews, Gary, Robert, David and Brian became fives players, all entering our schools tournament which Fred helped to organise.
In the 70's Fred helped establish that fives existed in Manchester with the North West Sports Council. This contact led to Greater Manchester Council in the late 70's funding our Open Schools Tournament with over 70 competitors coming from schools all over the country. David Barnes from Bradfield School will remember it well, especially the sleepless nights in the YMCA hostel – happy days!. Fred at that time also became a Junior YMCA Leader helping with the Saturday morning club and developed the junior fives club throughout the 70's, 80's and into the 90's. Another role he undertook was his Father Christmas appearances at the Junior YMCA Christmas party.
In Fred's early days he worked close to the Manchester Opera House Theatre and was introduced and attended many operas. This interest he also passed on to many fives players. It led to many good 'singing' sessions nationwide, often finishing with the toreador song from Carmen, 'Stand up and fight until you hear the bell ….'. Fred was a fine 'theatrical' performer too, as I am sure all would agree who attended the YMCA annual Fives Club dinner dances, which Fred initiated and organised for many years. Together with his fives partner Danny McGregor they produced an array of hilarious performances that left not a dry eye in the room. Fred's social talent was spotted and used on the Sports Council's National Coaching Course at Exeter University. Whilst coaching fives he became the course Social Director for over 20 years. Fred was a great observer of life and had many wonderful stories and a thousand and one jokes. Any visiting team would have the warmest of greetings from Fred when they arrived at the YMCA and then be treated to a beer or two and refreshments in Cox's bar round the corner from the YMCA, whilst Fred held 'court'.
Fred has touched innumerable lives and his contribution to fives at the YMCA will remain unrivalled. We who try to emulate him are "all his boys" and are so proud to be so. He will never be replaced or forgotten by all who knew him. Fred's enthusiasm will live on forever in us all as he is a true legend of all that is best of our wonderful game of fives.