Joey Gilligan by Bernard Desoldato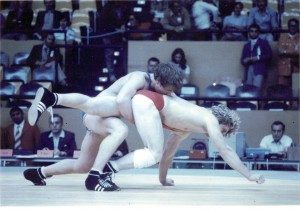 I was first introduced to Joey Gilligan when he was 13 and I was 26. I was doing judo at Denton Judo Club and was asked by Steve Pullen to come to The YMCA to wrestle Joey. I agreed thinking that a 13 year old boy would be no match for me. So i turned up on wrestling night and was introduced to Stan, Joey's father and also to his Uncle Dennis, (so i met all Gilligan's on one night). They then introduced me to Joey who I was immediately impressed by his tremendous physique for someone so young.
Having been shown the basic rudiments of wrestling and how it differed from Judo I began to wrestle Joey and realized that here was somebody special. I didn't do too bad that night but as the months went by Joey moved further away from my standard and was soon winning all the junior and intermediate tournaments. When Joey was 15 he was allowed to enter the British Senior Championships which he won and continued to win each year. Then in 1972 at age 17 he was selected to represent Great Britain at the Munich Olympics.
After the Olympics Joey gained The Winston Churchill Travelling Fellowship Award and spent some time in Japan at a wrestling College, from where he travelled to Iran and took part in the World Championships.
Returning to England Joey continued to win every competition in sight and was subsequently chosen again to represent GB at The LA Olympics. While competing in LA he was spotted by the coach of Stanford University and was offered a place on their Sports Masters course so that he would be able to wrestle for them in The American University League, a fantastic achievement for a British wrestler. Joey did spend some time at Stanford but could not settle and returned home.
On his return to England Joey continued to prove his superiority at his weight, and was again chosen to represent GB at the Moscow Olympics but was pulled from the squad 24 hours before team departure, because it was deemed he had not completed certain medical trials. This was a travesty and eventually resulted in Joey being barred from wrestling in the UK for 12 months. We appealed this and I represented Joey at the BWA meetings but to no avail. In any event Joey spent the next couple of years competing in Germany.
In my opinion even though on paper other sportsmen have achieved more honors I think Joey was one of the best natural talents ever produced in this country.