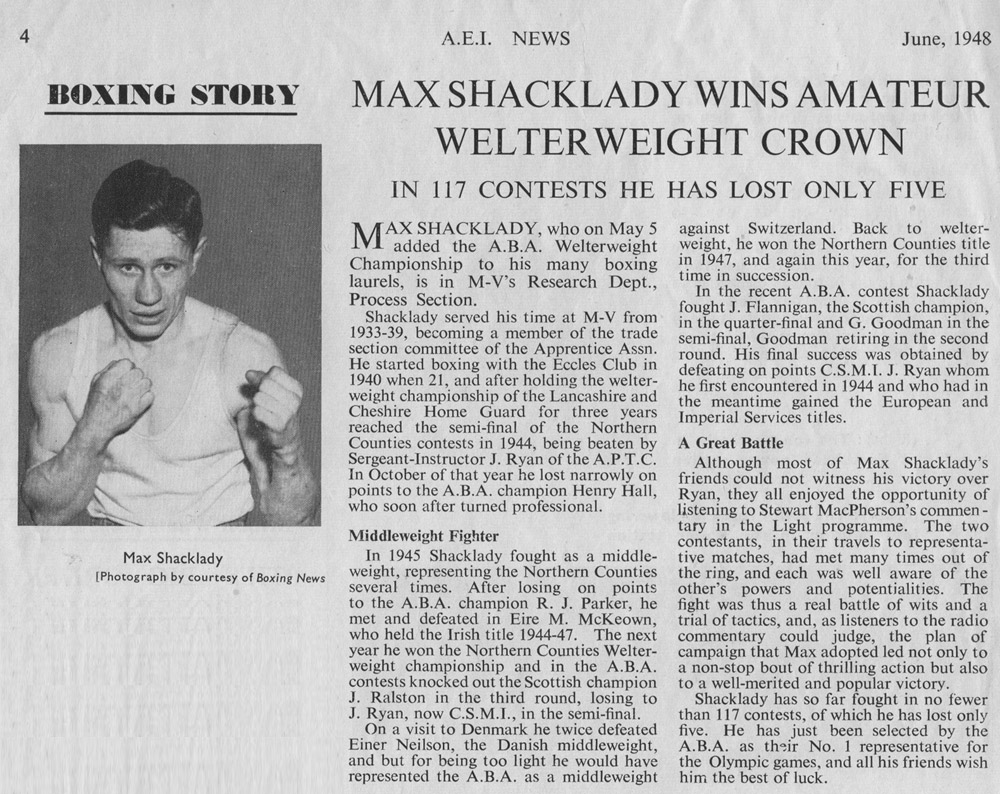 Max Shacklady, a member of the YMCA in the 1940's & 1950's, is still remembered by many older members for his incredible fitness and championship qualities.
Max lost his Olympic boxing match in the 1948 London Olympics under dubious circumstances.
Incredibly, up to 20 boxing officials were suspended during the games and a newspaper cutting at the time reveals…
There was another 'shocker' of a decision yesterday to produce British victim No5.

Max Shacklady our welter weight practically chased a Spaniard out of the ring, finished bang on top with his two fisted attacks. Yet the three judges votes, plus one from the referee followed by some mathematics by the Jury of Appeal added up to a win for Senor Aurelio Diaz. A British official went up to Shacklady and said 'Of course you won Max but there is nothing we can do about it
Max described the decision against him as 'the rawest I have ever had'.
Max began wrestling in the 1950's and eventually became the manager of the Olympic Wrestling Team which went to the Melbourne Olympics in Australia in 1956.
Max is also well known for establishing the Barton Athletic Club at his father's farm on Chat Moss where he trained many great champions there including his son, wrestler Tony Shacklady. Tony competed in 3 Olympic Games and was the proud holder of a silver medal in the 1974 Commonwealth games.
Maxine Reader, named after her father Max, talks here about his sensational ABA title fight in the run up to the 1948 Olympics… 
'In 1945 my Father reached the Northern Counties boxing finals. He was beaten by a very experienced boxer called Johnny Ryan and then in 1946 at Bellevue King's Hall Manchester he lost again to Johnny, who was by then the ABA national champion. So in 1947 Max decided to change his style of boxing. He went to Wembley where the ABA national championships were taking place and it paid off. In what was regarded as a sensational fight he beat his old rival. But the thing in a way which was a shame for Johnny Ryan but good for dad, was that this particular championship was where they chose the boxers for the London 1948 Olympics, so that's how he got to go in the Olympics.  He was down as the first choice and became known as the 'Eccles Steamroller'!'