Sylvia Hood – 1946 to 2019
Sylvia Hood joined the Manchester YMCA in the early 1970's just at the time when women were first allowed full membership. Sylvia has fond memories of the club and the friendships she has made over the years.
In 1987 Sylvia and her friend and fellow member, Brenda Bradshaw, became the first women members to sit on the board and Sylvia was still an active board member until her timely death. As a member of the steering group for the Sporting Heroes heritage project, Sylvia explained why it is so important for the Manchester YMCA to celebrate its member's achievements…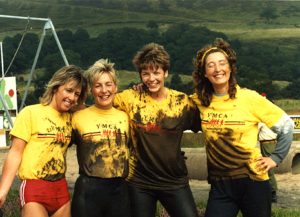 'Recently we had a Sporting Heroes' meeting and there were people there that I didn't even know how many medals they'd won! They'd won all these gold medals and its like 'wow' we train with these people all the time and you don't know they're there. It's an honour really. Real sports people don't boast about what they do; they just get on with it. The Manchester YMCA is that kind of place.'
This photo shows Sylvia (far right) with fellow Y Club members having completed the Krypton Factor course for charity, at the Army assault course in Bury in the late 1980′s.
In this clip Sylvia talks about some of the challenges and funny episodes that the women had to deal with while the Manchester YMCA got used to being a club for both men and women.