A member of the YMCA who is reputed as being the greatest ever Rugby Fives player. His list of achievements is truly inspiring…
3 times World Singles and Doubles Champion
23 times National Singles Champion
15 times National Doubles Champion
27 times North West Singles Champion
2 times National Schools Singles Champion
National Veterans Champion
Rugby Fives was historically a public school sport and Wayne was the first non public school player to win the national singles championship. Here Wayne talks about some of his memories of the Manchester YMCA and mentions many of the well known characters of the time…
'I introduced more levels of keep fit and exercise classes into the club than previously we had. On Monday evenings the fitness class was the hardest session (similar to 'Boot Camps' today) and still existing, from 8 to 9pm, I counted over 120 members on many occasions such was its popularity. This class followed a 6pm to 7pm class that had 60 to 70 participants. All male at that time. Women were allowed to join in the latter part of my job; however, I did take the first ever women's keep fit session down at the YMCA ground.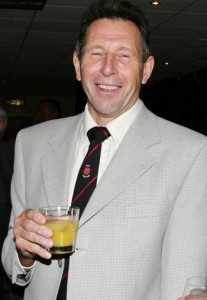 One classbecame known as the Bernard Selby class (he gave hours of time to all the classes and inspired many members to get fitter over the years). Bernard was one of a great group of volunteer fitness leaders: John Burgon and Paul Hudders (they still take the Monday session), Derek McEwan, Graham Corless, Graham Jackson (became the Harriers Secretary for many years and organised our very successful 20k Race), Tony Molloy, Peter Smith and many more.
I ran fitness leader training camps at Lillieshall (National Sport Council Centre) and the YMCA Lakeside.
I sat on the National PE committee and brought the National YMCA Cross Country Championships to Manchester. David O'Leary and Frank Williams both gave many hours to organising that event as well as our 20k which saw the great Ron Hill (Olympian) win in the 70's.
Norman Little (Volleyball Sec/Treasurer) and myself represented the England Volleyball team in the European Championships in Germany in 1978'