In conjunction with 4CT Limited and the Greater Manchester Festival of Ageing which takes place from 2nd July – 15th July, YMCA Manchester is pleased to extend the following exciting offer:
We will be holding a YMCA Manchester Meet and Greet event on the 13th July (11am – 2pm), where a free gourmet buffet style brunch will be on offer (see menu below)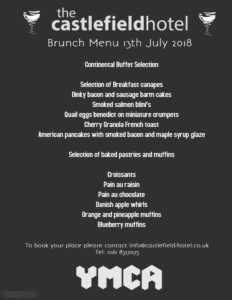 This event is open to people over 50 who want to know more about what YMCA Manchester has to offer, and will include inspirational speakers:
Dr Deborah Maw – Living outside the box
Ken Sharples – How to be the best you can be
Nicole Joseph –  Physical Health and wellbeing
Several of our long standing Y Club gym members, many of whom have been enjoying coming to our gym for over 40 years will also be present to welcome attendees, share stories and socialise.
The first 25 people to register for the event will receive a free 10 day pass to our Y Club gym, this gets you full access to the gym, classes, stream room and the swimming pool*
Ultimately, this event is about how YOU can be part of the YMCA family. We are an inclusive supportive community that has been part of the city for over 170 years and we would like to extend our reach.
To book your brunch place please contact info@castlefield-hotel.co.uk
*Once all free gym passes have been allocated we will have a discounted rate available on the day (£7.50 instead of £10.00). Enquire at membership@yclub.org.uk